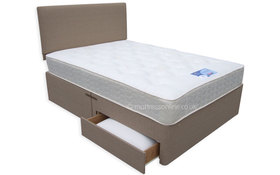 The Silentnight Vilana Limited Edition Mattress with Autograph Divan Base is a bestseller divan and mattress combination and can be found by clicking on the red link.
The Silentnight mattress that come with this divan is part of the succesful Silentnight Gold Label Mattress range. The Autograph Divan is a beautiful minimalist divan that is available with or without drawers and has a beige colour. This divan can be purchased with or without headboard.
The Autograph Divan Base is available as a single (90cm by 190cm) with the possibility to add two drawers, or as a double (135cm by 190cm) or king size bed(150 by 190cm) with two or four drawers. The divan has a total height of 61cm (24inch) and when you choose to add the Ritz headboard, this also has a height of 61cm so the highest point of the bed will then be 122cm.
While choosing a divan can be hard, choosing the right mattress can be even more complicated. The Silentnight mattress that comes with this divan is simply a high quality mattress that is reasonably priced. The Silentnight Vilana Limited Edition Mattress is a miracoil 3 medium feel mattress. The advantage of miracoil is the small springs that are used in the mattress which assures that on a double bed it would not make your partner feel it when you turn.
The Silentnight Vilana Limated Edition Mattress is a no-turn mattress that you can rotate regularly. The mattress is anti-slip to keep is stable on the divan, also the divan has a non-slip base that is quite firm. The divan comes in two pieces to make it easier to place it in the required room and the divan has silverstone glide feet.
Silentnight Vilana Limited Edition Mattress with Autograph Divan Base, 5.0 out of 5 based on 1 rating