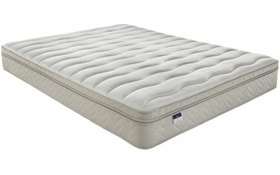 Many people find latex to be the most sumptuously soft material for their mattress and offers the ultimate pressure relief. This remarkably responsive material really defies belief and has to be felt to be believed. This Silentnight Munich mattress features a latex surface with a durable core with high-end Miracoil 7 springs.
Miracoil is all about especially positioned zones of springs that are located to fit to the human body. Cheaper Silentnight mattress feature Miracoil 3 springs while Miracoil 7 fits to 7 parts of the body including the head, shoulders and lower back. The natural latex used is a very pure material and makes this mattress suitable for asthma sufferers due to its hypoallergenic qualities. This is a single sided mattress due to the latex being on the surface of the Silentnight Munich and it therefor doesn't require regular turning like some other mattresses.
Silentnight Munich Latex Miracoil Mattress is available to buy through Mattress Online and is available as a single, double, king size or superking. Buying a mattress through the internet is ideal as it allows you to easily compare similar mattresses according to your budget and get the mattress you decide on delivered to your home. Many online retailers offer free next day delivery and deals such as free pillows.
Silentnight Munich Latex Miracoil Mattress

,