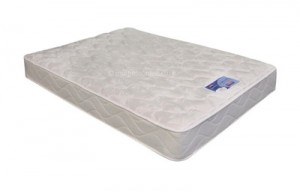 This basic and great value mattress featuring Silentnight's innovative Miracoil 3 technology is one of the best selling mattresses. Starting at just £109.95 for a single mattress and also available as a double and king size mattress, the Miracoil 3 Vilana mattress offers more sleep space and better lower back support due to the specific arrangement of the Miracoil 3 springs that fit to the body.
The woven damask cover of the Miracoil 3 vilana mattress is durable yet soft and adds an extra layer of comfort to this limited edition mattress. This mattress comes as a replacement to the Silentnight Gold label mattress and offers similar specifications. Silentnight Miracoil 3 Vilana Limited Edition Mattresses have thicknesses of 21cm and are offered with a 5 year warranty as well as free next day delivery by Mattress Online through the link above. This mattress has a medium feel.
A big advantage of this mattress is the fact that it is made to create more sleeping space. This is accomplished by the slightly firmer middle of the mattress that will prevent you from rolling together with your partner. The edges of the mattress are also firmer to avoid rolling out of the bed. You can have a great night of sleep without disturbing your partner or without turning and tossing thanks to the popular miracoil technique. This mattress is suitable for divans as well as bedsteads with slats. Have you tried this mattress? You can write a Silentnight Vilana Mattress review here.
Silentnight Miracoil 3 Vilana Limited Edition Mattress

,