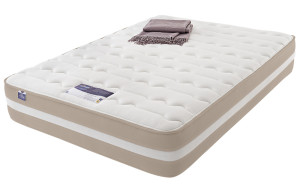 Silentnight's London mattress from their Cities series is rapidly becoming one of their best sellers as a mid-priced option which boasts some very cutting-edge mattress technologies. This mattress is a hybrid between luxurious pocket springs and memory foam for the best of both worlds. That means that at the heart of the Silentnight mattress is a core of 2000 individually wrapped pocket springs with a layer of memory foam at the surface for added comfort.
Pocket springs are unrivalled when it comes to full body support and the medium tension springs within the London mattress have targeted extra support to 7 key zones of the human form for an Accupressure effect. Because of this, the mattress offers unrivalled lower back support and gives pressure relief to other portions of the body to dissipate the aches and pains of an active lifestyle.
Furthermore, the London mattress reviewed here features a cover of EcoComfort fibre which was specifically designed to lower your body temperature as you sleep (an issue that affected the first generation of memory foam mattresses). As mentioned, this is a mid-priced mattress from Silentnight's range and there are cheaper options available. However Silentnight London offers great value for money and is a sound investment for overall health.
Silentnight London 2000 Pocket Memory Mattress

,