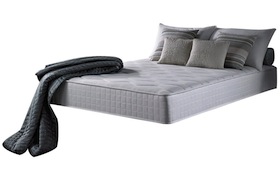 The Silentnight Essentials Pocket 1000 Mattress is a high quality mattress that is very reasonably priced. The springs of this mattress are separated into 1000 individual pockets, allowing each single spring to move independently. This means, in the case of two people, that one can simply turn sides without disturbing the other sleeper.
The Silentnight Essentials Pocket 1000 is made to give you the perfect night of sleep. The edges of the bed and the middle are slightly higher, ensuring that you will not roll out of the bed or roll together. You will experience more space in your sleeping area of the mattress because of the innovative technique of pocket spring. Another advantage of the 1000 separate pocket springs is that it will give you more pressure relief by spreading out your weight accross the mattress.This mattress has an approximate depth of 26cm and is available in several different sizes: single, double and kingsize.
The Silentnight Essentials Pocket 1000 Mattress will be the perfect buy for you if you like a high quality mattress but do not want to spent a fortune on it. This mattress is currently in sale and comes with a free pillow. However, this is temporary and we cannot guarantee that this sale is still available, you can click on the link to find out the current price.
Silentnight Essentials Pocket 1000 Mattress

,