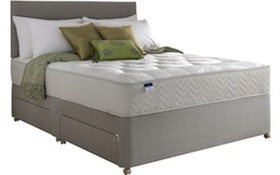 The Amsterdam Orthopaedic mattress is amongst Silentnight's premium range of mattresses and boasts a firm Ortho Miracoil core and hypoallergenic qualities. While this may cost slightly more than some other Silentnight mattresses, you'll really see where those extra pounds went with its orthopaedic support and comfortable tufted surface.
EcoComfort fibres have been used to create the tufting on the top side of the mattress which help keep you cool while you sleep and are made up of recycled material to give something back to the environment. This is considered a 'firm' mattress which adds to its health benefits but don't think for a second that this makes it uncomfortable. A firm mattress is worth looking into if you find yourself waking up in the morning still feeling tired and with body aches. The Silentnight Amsterdam Ortho Miracoil Mattress offers great lower back support due to its Miracoil 3 system which also targets support to the shoulders.
But it doesn't stop there, due to the careful selection of materials used in the Amsterdam mattress, it also has hypoallergenic properties making it suitable for asthma sufferers. Although it benefits from regular rotation, you won't need to flip this mattress over its lifetime. Bear in mind while making a decision on your new mattress that the Silentnight Amsterdam comes with a 5 year warranty to ensure you get your money's worth and you can order a mattress online with free next day delivery.
Silentnight Amsterdam Ortho Miracoil Mattress

,