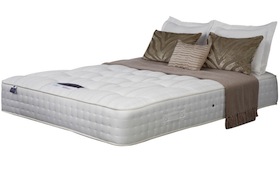 The Silentnight Premier range is a collection of high-end, luxurious mattresses that put your comfort and health above all else. With a total of 1350 pocket springs spread throughout this mattress that are concentrated in specific regions to offer the optimum support under the Mirapocket philosophy. Silentnight's 'Mira-' technology positions coils and pocket springs to fit around the major zones of the human body and around the perimeter of the mattress to prevent you from rolling around.
The advantage of pocket springs over open coil mattresses is that in open coil where springs overlap and movement on one side of the mattress will move the other, individually wrapped pocket springs can move independently of each other and allow you and your partner to do the same during the night and stop you waking up when they move.
This mattress is all about simply high quality and the staggering number of pocket springs, 1350 in total, and authentic silk incorporated into the mattress demonstrate this. With hypoallergenic qualities due to the choice of the materials it is composed of, this mattress is ideal for asthma sufferers and those who like to look out for the health.
If you want to give a boost to the UK economy, then the Silentnight 1350 Premier Pocket Mattress is for your as unlike most other mattresses, it is manufactured within the UK. It is also offered with a 5 year warranty and comes as a single, double, king size and superking mattress with free next day UK delivery and the option to have £50 knocked off the price of the mattress if you want your old mattress or divan collected.
Silentnight 1350 Premier Pocket Mattress

,