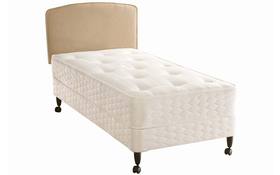 The Sealy Support Firm Mattress is an excellent orthopaedic mattress for an amazingly low price and can be found by clicking on the red link. This mattress is great for people who prefer a more firm mattress over a soft one, but do not want to spend a fortune on a mattress. The Sealy Support Firm Mattress is part of the popular Sealy Essentials Range. The Sealy Support Firm Mattress is made form open coil springs, and the special technique used by Sealy makes it possible to put more springs into one mattress. The price of this mattress is unbelievably low for the quality because of a 50% sale.
While usual springs are often too soft to support your back, Sealy created posturepedic zero deflection springs which are more firm and do support the whole body well. Another positive aspect of these springs is that they will have a longer duration before getting weaker. This mattress also releases pressure point in order to stop you from turning and tossing to give you a better night of sleep.
The Sealy Support Firm Mattress is an orthopaedic mattress and this one will especially be good for people with problems in the lower back. While the picture shows this mattress on a divan, it is also suitable for bedsteads with slats. The mattress has a depth of 25cm and is available in the following sizes: single, small double, double and kingsize. The mattress is surrounded by damask with a traditional hand tufted finish.
Sealy Support Firm Mattress

,