Are you are looking for a mattress that is made to support your back? Buying a Sealy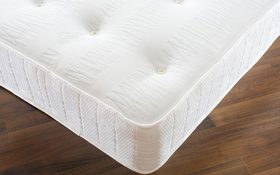 Posturepedic Mattress is a good choice. Sealy Posturepedic is a 5 star certified manufacturer that offers a wide range of back support mattresses. The Lara mattress has a firm feel and will therefor give you more support than a regular mattress. Another advantage of this particular mattress is that it has a bugshield which will reduce the dustmites and eliminate any bedbugs. I would highly recommend this mattress to people who suffer from allergies or asthma, seeing that this bugshield will keep the dustmites to a minimum.
The Sealy Posturepedic Lara Mattress with BugShield uses 620 springs to evenly distribute the weight of the body over the whole mattress, which will give you pressure relief. The edges of the mattress are slightly higher to ensure that you stay in the bed and have enough sleeping space. This mattress will make you toss and turn much less than a regular mattress thanks to the technique that is used to relief pressure points. The Sealy Lara mattress is suitable for divans as well as bedsteads with slats. The mattress does not have to be turned and can simply be rotated to keep the mattress in a good condition. The Sealy Posturepedic Lara Mattress with BugShield comes in the following sizes: single, double, king size, superking.
Sealy Posturepedic Lara Mattress with BugShield

,