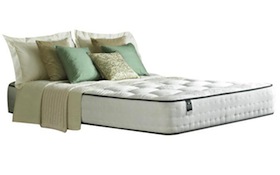 This luxurious mattress from one of the most reputable mattress manufacturers, Rest Assured, offers you outstanding value and is definitely worth considering during your search. With 1400 individual pocket springs, the Verona luxury mattress offers outstanding support and ensures a good night's sleep.
This mattress has bee specifically developed to be used with slatted bedsteads (although it can be used with divans also) and is optimised with a non-slip base to ensure it doesn't move over time. One of the main selling points of Verona is the exquisitely soft felt tufting present in the surface and ultra soft fibres that compliment this medium-firm mattress brilliantly.
Rest Assured is a name you can trust and this pocket sprung mattress is offered with a 5 year warranty for your peace of mind. The 26cm thick Rest Assured Verona 1400 Pocket Luxury Mattress doesn't require regular turning due to it's composition but can benefit from rotation.
Rest Assured Verona 1400 Pocket Luxury Mattress

,