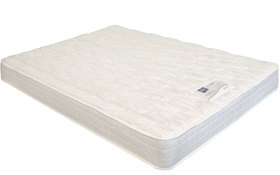 The Rest Assured Modena Classic Mattress is simply a high quality mattress without to many bits and bobs to assure you a good night of sleep. You can find this mattress by clicking on the red link. The Modena Classic is part of the Rest Assured's new Silhouette Collection, of which it is one of the cheapest ones. This mattress has traditional open coil springs to support the body but also move with the body. The mattress is covered by a comfortable soft fabric (of which the pattern and colour may vary). However, the mattress does have a non slip base to prevent it from moving and is therefor perfect for bedsteads. The base also has a extra support layer to span over the gaps in bed slats.
The Rest Assured Modena Classic Mattress now comes with a free bounce back pillow that is worth up to 20 pounds. As with some mattresses, this mattress does not require to be turned, which will save you a lot of time and hassle. However, I would recommend you to simply rotate the mattress quite regularly to keep it on its best. This mattress has a depth of 21cm since the springs are covered with several layers of the most comfortable soft white fibres.
By purchasing a Rest Assured Modena Classic Mattress you are helping the environment since  the fibres are created by recycled polyester. Instead of asking you to pay more for eco-friendly matresseses, supporting recycling actually also saves you money. The soft fibres that are used will help you to stay cool during the night, as is proven by research. The Rest Assured Modena Classic Mattress will be very durable because of the materials used. The cover of the mattress for example is made from a strong woven Damask fabric. Rest Assured are very confident about the durability of their mattresses and therefor offer you a 5 year warranty.
The Rest Assured Modena Classic Mattress is available in several different sizes: a single of 90cm by 190cm, a double of 135cm by 190cm, a king size of 150cm by 200cm and a superking of 180cm by 200cm. By clicking on the red link and buying this mattress you can have this mattress home without delivery costs within a day!
Rest Assured Modena Classic Mattress

,