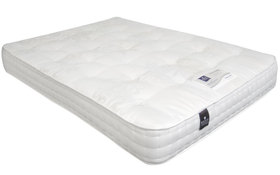 A good mattress is crucial for a good night of sleep and to prevent back problems, the Rest Assured Genoa 800 Pocket Ortho Mattress does everything you can expect from a high quality mattress.
This orthopaedic mattress is perfect for people with back problem or to prevent back problems and yet is reasonably priced. The firmer feel of this mattress also prevents you from turning and tossing too much during the nights.
This mattress has 800 springs that are surrounded by a fabric to create a pocket. The big advantage of a pocket spring mattress is that every spring work individually and will not affect the other springs, making sure your partner will not notice when you turn or move, giving the both of you a peaceful night of sleep. This mattress is traditionally constructed by hand stitching, the edges of the bed are therefor more supportive.
The Rest Assured Genoa 800 Pocket Mattress is 23cm thick and filled with comfortable, soft, white fibres. This mattress is especially designed for bedsteads with a slatted base since it has an extra strong protective layer that can bridge the gaps. This mattress is also suitable for divans thanks to the anti-slip base. This mattress does not require to be turned, but I would recommend to simply rotate the mattress regularly to keep it as good as new.
The Rest Assured Genoa 800 Pocket Mattress is part of the Rest Assured's Silhouette mattress collection, of which this one is defiantly the best value. This mattress comes in the following dimensions: single, double, king size or superking. This mattress is currently available with one or two free bounce back (non-allergenic) pillows that are worth up to 20 pounds. This mattress can be delivered to you in just one day.
Rest Assured Genoa 800 Pocket Ortho Mattress

,