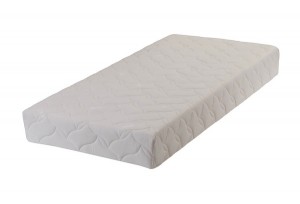 The Relyon Memory Pocket Sensation Mattress is a very high quality mattress that can be found by clicking on the red link. To assure a good night of sleep, a good mattress is crucial. I highly recommend investing in a high quality mattress since you will enjoy this mattress for a longer time and wake up feeling ready for a new day. Once you have experienced a high quality mattress, you would not want to go back to a regular mattress. This mattress has a medium feel and gives support to your back by the 1050 pocket springs and memory foam top layer that is 35mm thick. This mattress combines the advantages of foam and springs into one amazing mattress.
The Relyon Memory Pocket Sensation Mattress has several advantages over other mattresses. One of the great things about this mattress is the memory foam layer that is temperature sensitive. This Superflex foam layer will release pressure and help  you maintain comfortable on the springs, without actually feeling the springs and reflex back very quickly. The 1050 individual springs are there to support every part of your body. Around the mattress is a high quality CoolMax cover which helps to keep the mattress cool and is made out of special fabric that is often used in sportswear. This cover can be easily removed by using zipper and washed. This mattress spreads the weight of the body across the mattress because of the springs which will make you turn and toss much less during the night.
The Relyon Memory Pocket Sensation Mattress has a depth of 20cm. This mattress will suit on any bed, including ones with a slatted base. The manufacturer is very sure about the quality of this mattress and therefor offers a guarantee of 5 years with this mattress. The Relyon Memory Pocket Sensation Mattress is available in the following sizes: a single of 90cm by 190cm, a small double of 120cm by 190cm, a double of 135cm by 190cm, a king size of 150cm by 200cm and a superking of 180cm by 200cm. This mattress is hypoallergenic and resistant to dust mites, making it perfect for people with asthma or allergies.
Relyon Memory Pocket Sensation Mattress

,