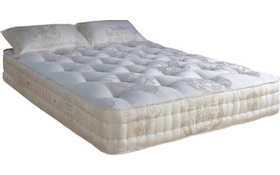 For unrivalled ease of sleep, a healthy back and long lasting quality, it's really worth investing in a premium mattress by Relyon. The Marlborough mattress from the Traditional Collection features a staggering 2000 individually wrapped pocket springs and a heavily cushioned, tufted surface.
The Relyon Marlborough is available as either a soft, medium or firm mattress rated as 1, 3 and 5 respectively to suit your personal preference. A firm mattress is recommended if you suffer from back and neck problems and there's certainly no compromise between comfort and support with the Marlborough mattress as the ultra-soft layers of lambs wool, fine cotton, and natural hair held in place by woollen tufts.
However, don't forget that this is a double sided turnable mattress so this same painstaking care and attention has gone into this mattress twice as well as the two layers of 2000 pocket springs which have been centre tied together. Turning mattresses is recommended to increase their longevity and keep them in suitable order for longer. The extra details like the 2 rows of hand side stitching to increase the strength of the edge of this mattress ensure it's quality and make you see where the money goes. The Relyon Marlborough Pocket 2000 Mattress reviews state that this is a hypoallergenic mattress that also comes with Silver+ protection to deter microbial growth. These may seem unpleasant details but mattresses that fail to mention this simply don't offer it.
Available in a wide array of sizes from Single through Double mattresses up to Superking including and European sizes, this customisable mattress certainly offers what you need. If you're willing to spend the extra money on a high end mattress, then the Relyon Marlborough is the way to go.
Relyon Marlborough Pocket 2000 Mattress

,