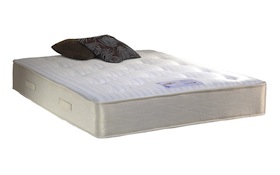 This Myers mattress is the perfect choice if you're looking for a relatively basic, yet long lasting, firm and high quality mattress. It's considered an Ortho mattress with orthopaedic qualities due to its firm 650 open coil structure. With a focus on the lower  back area and extra support around the rim of the mattress to prevent rolling out and give extra sleep space.
Myers Ortho Firm Mattress can be turned regularly to give it a longer lifespan and keep t feeling fresher. With a layer of fibre padding that offers great support and comfort, this 25cm Myers mattress has everything you need and is offered with an astonishing 12 year warranty. This ensures you get true value for money and makes the Ortho Firm mattress a sound investment. Due to the popularity of this all-rounder mattress, it is constantly kept in stock by Mattress Online who offer free next day delivery on it. View prices through the dashed box above.
Firm mattresses may not sound as comfortable as softer options but offer much better support and help prevent back pains and further complications. Over time, you certainly won't regret your decision to opt for and Ortho Firm mattress.
Myers Ortho Firm Mattress

,