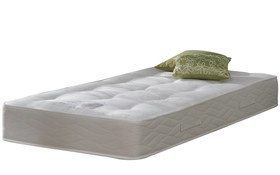 You are looking for a mattress that is cheap and can yet provide you with a long and healthy night of sleep? The Myers Metro Mattress is the perfect choice because of its amazingly low price and good quality open coil springs. Open coil is used in most standard mattress and means that springs are all connected together to support your body. One of the big advantages of this mattress is that the sides and the middle are made slightly higher in order for you not to roll out of your bed are together (in case of a double bed). This mattress has a somewhat firm feel to give extra support to the lower back.
The Myers Metro Mattress has 325 open coil springs and the mattress is covered by a swirl-patterned damask fabric. The metro mattress does not have to be turned but can easily be rotated by using the handles. This mattress is suitable for bedsteads with slats or divans. The mattress has a depth of 20cm, which is quite thick. Once you have bought this mattress you do not have to worry about it durability, since Myers is sure about its quality and gives you a 12 year guarantee with the Metro Mattress.
The Myers Metro Mattress is available as a single, small double, double and king size mattress. By clicking on the red link on this page you can already have this mattress tomorrow! This mattress will give you and your partner more space by the higher edges so you can enjoy a great night of sleep. This budget mattress is recommendable because of its great value.
Myers Metro Mattress

,