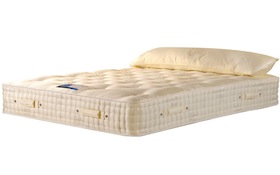 Millbrook are one of the UK's favourite manufacturers of premium quality mattresses for their consistent quality and great product selection. The higher end Millbrook mattresses are named after the planets in this Saturn mattress features 2500 pocket springs and a super-soft latex layer for added comfort.
It really is staggering to think that 2,500 indivdually wrapped pocket springs went into producing the structure of the Millbrook Saturn. The advantage of pocket springs over open coil mattresses is the level of support offered and the fact that the springs aren't tangled together. In an open coil mattress, your partner's movements on one side of the bed will cause movement on yours whereas pocket springs can move independently. This all equates to a better night's sleep which will also be aided by the natural latex and lamb's wool that goes into the quilted cushioning on both sides of this turnable mattress.
The Millbrook Saturn 2500 Pocket Latex Mattress can be ordered as a soft, medium or firm mattress depending on the level of support you require and your personal preference. A firm mattress is recommended if you suffer from back pain but don't think for a second it makes a mattress uncomfortable. A high end mattress with a latex layer like this one will give you an unmistakable feeling of weightlessness. This mattress is available in all the major sizes including small single, single, small double, double, king size and superking size.
Millbrook Saturn 2500 Pocket Latex Mattress

,