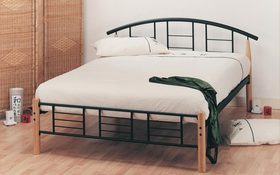 The Elan Neon Wooden Metal Bestead is a modern styled bed with an Oriental feel to it because of the interesting pattern of the metal. The combination between the wooden legs and matt black metal creates an unique looking bed that will suit a modern bedroom. This chic bed will be an interesting feature in your bedroom and yet be very comfortable for the perfect night of sleep. The Elan Neon Wooden Metal Bedstead is available in combination with several different types of mattresses or can be purchased separately. The base has sprung slats on which one of the discounted mattresses would suit.
The Elan Neon Wooden Metal Bedstead has the following dimensions: a headboard with a height of  89.5cm and a footend with a height of 89.5cm. The other dimensions depend on the size you prefer: a single bed of 202.1cm by 111.8cm, a small double of 202.1cm by 145cm, a double of  202.1cm by 160cm and a king size of 209.7cm by 176cm. This bed has a sturdy design and will therefor have a long duration. This bed will give a comfortable feel because of the gentle cushioned feel of the slats.
The Elan Neon Wooden Metal Bedstead is available with a variety of mattresses of which I will here explain the advantages. This bed is available with: The Luxury Athena Mattress, which is a hypoallergenic mattress with open coil springs and has a medium feel; The Regatta Organic Cotton Mattress, which is a firm orthopaedic mattress covered by organic cotton; The Latex Peadic Mattress, which is another orthopeadic mattress but covered by a hypoallergenic and pressure releasing Talalay latex; The Harmony 800 Pocket Mattress, which has a pocket sprung filling to personalise comfort around your body and also has a hypoallergenic filling; The Viscount Pocket Memory Mattress, which has the comfort of 800 pocket springs in combination with a luxurious firm foam.
Elan Neon Wooden Metal Bedstead

,