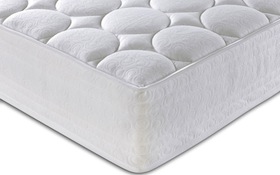 Although more expensive than some other mattresses on the market, this Breasley Flexcell mattress offers outstanding value with its 2000 individual pocket springs and 7cm layer of memory foam. Breasley's extraordinary selection of bedding really shows the science behind producing such high specification mattresses.
This is really evident in the Flexcell range which boasts orthopaedic qualities, temperature sensation memory foam and a removable zipped Cocona cover with increased surface area to encourage evaporation and keep down moisture levels. It's this little details accompanied by the sheer quantity of the 2000 individually wrapped pocket springs that provide unrivalled support and pressure relief which aids circulation.
As well as the main sizes, Breasley Flexcell Pocket 2000 Memory Mattresses are also available as small doubles. The 25cm thick mattresses have 5 year guarantees to ensure you get value for money while you experience the unrivalled sleeping quality and health benefits a premium quality mattress can offer. A major innovation in this mattress is that it comes vacuum packed in a rolled up form. This makes it extra convenient to fit through tight stair cases and door frames en route to the bedroom and ensures its freshness. When unwrapped in its desired location, the mattress will once again regain it's full size. Futuristic or what?
Breasley Flexcell Pocket 2000 Memory Mattress

,