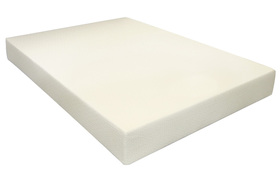 The Bodyshape Value Memory Mattress is part of the Cloud 9 Collection offered by Mattress Online as their cheap solution to your mattress search. However, this does not mean that the mattresses are of a lower standard, but merely that you are not paying for the brand name as with some better known brands. The Bodyshape Value Memory Mattress is made from a 2.5cm thick sumptuous body tailored memory foam and a 12.5 cm of a more firm orthopaedic reflex foam.
This mattress will offer a medium firmness because of the combination between memory foam and reflex foam and is therefor suitable for people with back problems. The foam is sensitive to body temperature and will perfectly mould with your body shapes. This foam is covered by a soft knitted cover of fabric with a dotted design. An advantage of this cover is that is allows air to go in and out of the mattress.
The Bodyshape Value Memory Mattress is suitable for bedsteads and divans and is firm enough to deal with gaps caused by slats. Mattress Online gives you a 10 year guarantee with this mattress. The Bodyshape Value Memory Mattress is available in the following sizes: a single of 90cm by 190cm, a small double of 120cm by 190cm, a double of 135cm by 190cm and a kingsize of 150cm by 200cm. This mattress is great value for money and I strongly recommend it to people who are looking for a memory foam mattress but do not want this to be too soft, since this mattress does give support.
Bodyshape Value Memory Mattress

,